Exercise / Übung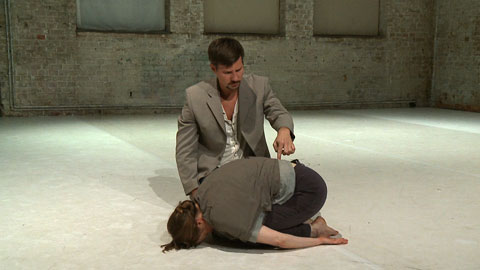 A collaboration between a choreographer, a poet and a musician. The piece took part in Bewegungsschreiber - a project initiated by Ingo Reulecke and Martina Hefter. Four choreographer meeting four poets, for an exchange between text and movement.
From the program (available only in German):
Bewegungsschreiber. Dichtung trifft Tanz
vier Performance-Abende aus Text und Bewegung
Das Körperliche der Lyrik trifft im Laboratorium Bewegungsschreiber auf die Sprache des Tanzes. Vier Tänzer und vier Lyriker beschreiben, unterlaufen und verschieben die Grenzen ihrer Medien, nehmen Impulse auf und konfrontieren sich mit einer scheinbar fremden Welt des Ausdrucks. Dabei versteht sich Dichtung seit je her als performative Kunst, der – ebenso wie dem Tanz – Rhythmus, Beweglichkeit und Körperlichkeit zu eigen sind. Welche Sprache spricht man, wenn man tanzt, welche, wenn man Gedichte schreibt? Wann versteht wer was wie? Oder geht es gar nicht so sehr ums Verstehen im herkömmlichen Sinn?
(Un)gleiche Partner begegnen sich im Dialog auf der Bühne. Aber es geht um mehr, als die Arbeit der anderen in eine Interpretation zu bringen, nicht nur Sprache in Rhythmus, Bewegung in Text, Worte in Formen zu übersetzen. Körper, Stimmen und Sätze interagieren auf andere Art miteinander. Die Ergebnisse sind dialogische Werke, die ein Neues, Drittes, jenseits der Gattungen entstehen lassen, eine neue Sprache bestehend aus Worten und Bewegung in gleichen Teilen.
Duration: 20 min
choreography: Maya M. Carroll / poetry: Alexander Gumz
sound: Roy Carroll
performance: Alexander Gumz and Maya M. Carroll
costume and stage: Mireia Vila Soriano
premiered at Dock11 Berlin, December 6, 2012
funded by Berlin Senate Chancellery (cultural affairs)